On July 18th 2018, the first parkour card game was set in motion, sparking an interest from many Traceurs. Their indiegogo campaign is ending today, so if you have the chance go and fund them.
We messaged David Banks, one of the founders to find out what it was all about.
What is it all about?
Ukemi, is a card game for all levels of parkour. The design of the card has an illustration of a movement or technique along with the name of the said technique. This makes it easy for all practitioners to understand. On the back of each card, there is a coloured U (Which stands for Ukemi). It is colour coded so depending on the colour of the U on the back which will allow you to set different types of objectives.
"We wanted to create a training game for the parkour community that could be scaled for any level of practitioner. Our goal was to create something that contributed greater value to the community than a t-shirt and something a bit different from a video-log or showreel.

The community was already really saturated with these things and there are already people doing that really well. Because of that, we wanted to create something different."
The game is good for warm-ups, exploring new spots and as a teaching resource for classes/workshops and open sessions. It can also be an excellent tool for generating choreography and a fun way of introducing young people to create things.
The Ukemi card game definitely covers new territory, in the way that it is the first of its kind.
"We really want to focus on covering new ground with everything we recreate. Keeps it fresh for us and the community."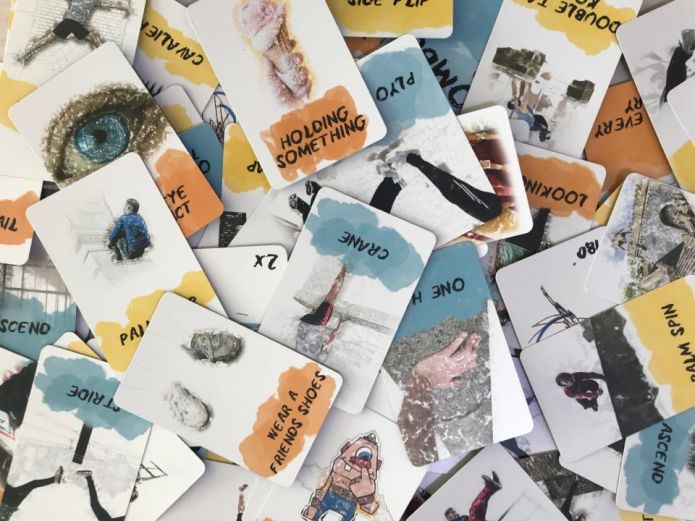 The Game:
Main Style: The goal is to get to a set number of points. You achieve points by drawing a combination of cards and successfully replicating the line or movement produced. The more cards you pick the more points you get.
There are lots of ways to play but this method can take anywhere between 5 – 20 minutes depending on how many people are playing and the difficulty of cards you are using in relation to your skill level.
Each player gets the choice of three types of cards and can scale the game by removing or adding certain cards;
Movement (40 cards) – Choose between techniques taken from parkour, tricking and gymnastics.
Condition (30 cards) – Add variance with rotations, combo's, targeted objects and movement qualities.
Wild Card (30 cards) – Put your route on hard mode with a Wild Card. This is not for the faint of heart and you can end up in a tree, wearing your friends' shoes or blindfolded.
Blanks (15) – Each deck comes with 5 blank cards for each card type. This puts you in charge and lets you add your own cards to the game.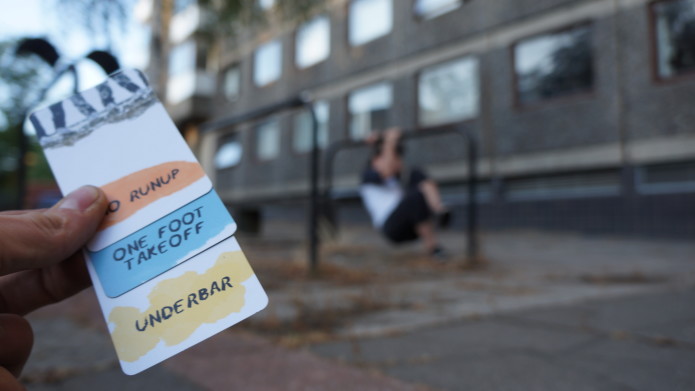 Who's involved in the creation and when it started:
The game was first conceptualised by Sam McFarlane- It was then tried and tested in his classes as well as with the Glasgow Parkour community.
Daniel Smith, David Banks and Tim Pierce from a company named Ukemi that started around the same time in Scotland. – Their aim was to promote movement in highly urbanized areas through digital design, product creation, and community arts development.
As both parties were familiar with each other since the had coached, performed and trained alongside him for years, it made sense for them to collaborate.
"Sam had a sick idea and we wanted to contribute our skills to refine and expand the game to where it is now."
It's been four months since they all decided to start working together. In that time we refined the game as well as creating a version 1 of the game. The first version of the game was tested more rigorously and they were able to get together enough images and design ideas to create a physical prototype.
Lots of the images used were supplied in-kind until we can raise the money needed in pre-orders to get them done with professional photographers and athletes. The artwork used on some of the cards was supplied by Sally McKay, an illustrator we will be able to use for the final version if we hit our funding target.
What is Ukemi?
The name Ukemi comes from Japanese Martial Arts.
The concept of the person who receives the technique and being able to avoid as much of it as possible.  Essentially we have taken the idea that martial artists should have good Ukemi, the ability to fall correctly, and applied it to other movements like parkour.
How to show your support:
Pre-order a deck of cards as an individual, or buy in bulk for your gym/park.  This can be done through the Indigogo campaign.
They need to hit a minimum of 30% to cover the artwork supplied in-kind, initial production expenses and to re-do the images with a professional photographer.
Anything raised beyond that will be used to enrich the product as outlined on our stretch goals on the campaign page.
Expansion Packs:
The deck includes plenty of blank cards so that people can write their own modifications.
"We hope so. I would love to have the community pool together all the filled in blank cards and release a printed add-on with designs!

We also have some ideas on how to modify the game to include other sports.
So dear readers expect to see more from the Ukemi card game project!"
Collaboration wishes:
"Probably old school Yamikazi, the people seen as the founders of the discipline still hold a kind of mythical status for us olds school practitioners, it would be pretty incredible to work alongside some of our childhood heroes."
The End Goal: